Review Detail
94
1
100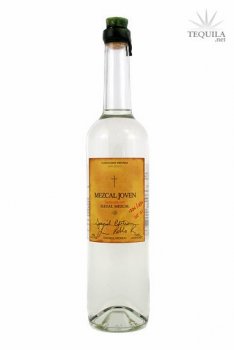 Blancos
T
Tequila.net
April 25, 2010
56359
Tasted out of a snifter 16/12/2012.

Taster's note: this was tasted on a cold day in a cold house. I'm sure if I'd had chance to warm it a bit more it would receive an even better review.

I've never tried Mezcal before, and the first thing I notice about this is the pleasant nose. I find the nose of a lot of tequilas to be overpoweringly alcoholic when taken from a snifter; often you have to do a little searching for the real nose. Not so with this mezcal. It's a pleasant combination of fruit and smokiness (I don't get the 'ash' that the editor mentioned, just a pleasant smokiness with a hint of unlit tobacco - similar to rooibos tea). I find it quite a strongly flavoured nose, if that makes sense.

Initial taste is very smooth and mild, but is quickly followed by a very quick powerful blast of sweet heat that smooths into a nice warming finish that doesn't last particularly long, but doesn't quite fade completely for a while. Lots of agave, smoke, and floral notes. It almost comes across as being aged more than it is, there's a slight woodiness buried in there that I'm sure would be much more present in the repo and anejo of this line. The finish has a buried note of sourness that is not unpleasant.

It slips down very easily.

Originally I was a little sceptical of mezcal, often having had it described as akin to a 'less refined' tequila, or perhaps a more 'raw' flavour. However, while I can see where those descriptions come from, I would like to note that they're not entirely accurate. I wouldn't call it 'less refined' or 'raw', but perhaps 'more powerful'. It's a very strong flavour, and I'm wondering if I actually prefer it to tequila for the money.

Which leads me on to it's price. VERY reasonable. Not cheap, by any means, but to get myself a tequila that I enjoy as much I would expect to pay a lot more. Whether that's just because it's mezcal and not tequila, I don't know.

The only slight disappointment for me is the presentation. While it's a clean, authentic looking label (with handwritten number) in a somewhat minimalist bottle (which, when coupled with the label looks good), the wax seal didn't cover the join between cork and bottle completely, and the cork isn't a great fit (feels slightly loose) and I wonder how good the seal it forms really is. Maybe this it's just this one bottle, who knows? The pictures on this site look like the wax has been applied with more care. Had these two issues been better, it would have scored much higher, as the bottle itself does evoke an impression of a home-produced spirit back in the olden days, and I like that that reflects it's history. It's not JUST a bottle, it has a story to tell.

All in all, this is a great mezcal and I don't think it's going to last long before I'll be keeping an eye out for it's older brothers to replace it. I'm VERY interested to try the anejo now (and indeed, other mezcals).

For the record, I MUCH prefer this to the various blanco tequilas I have.

Highly recommended.
Comments