This question comes up quite a bit for new Tequila drinkers. With so many types of Tequila available now, even in the smaller liquor stores, it can be hard to choose without knowing anything about the brand. And if you're lucky enough to live in California or Texas, you can see over 300 different bottles at select stores.
Don't make a decision based solely on bottle design, many new brands are putting more emphasis on the bottle for marketing purposes. Do your research before you buy...
Tequila can be as enjoyable and complementary with a meal as wine. Try sipping a shot of Tequila with Mexican food for a delightful surprise. Some brands also offer cremes, infusions, and flavored Tequilas that make a wonderful after dinner drink, and a nice addition to most cocktail recipes.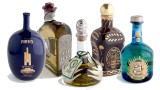 Here are some brands that I recommend, based on quality and price that have yet to render any complaints: ($20 -$60 range)
For sipping - 1921, 5150, Partida, Dos Lunas, MuchoTE, Don Abraham, Tres Mujeres
For sipping and mixing - Arette, 30-30, El Ultimo, Lunazul (100% Agave, quality for around $25)
Want to try something different?  Check out Del Maguey, Crema de Mezcal. It is on the sweeter side, but great for men and women as it has both "smokey" and "sweet" flavors.  And then there is 1921 Tequila Cream, it seems to please all palates, and is excellent straight and in cocktails.
If you're not a seasoned drinker, I would recommend buying a Reposado, as this will allow you to experience a multitude of flavors from both the Agave and wood aging, as Reposados have rested in oak for at least 2 months. Añejos have been aged for at least one year, and take on more wood flavor from the additional time in the barrel, whereas blancos / silvers are the pure form of the spirit. Always look for products that are 100% Agave.
These are Tequila.net favorites and are just to be used as a guideline for those looking for help. Everyone has their own tastes and opinions.
See Tequila.net top rated choices and user top rated choices, including Tequila, Mezcal, and Sotol
If you have any questions regarding brands, check out the Tequila.net Forums, there are hundreds of other Agave Spirit drinkers there to share ideas and answer questions.