I first tasted 4 Copas Tequila at the Spirits of Mexico event last fall in San Diego and enjoyed the entire lineup. I remember talking with the gents from 4 Copas (Chris Melendez, President/CEO, Enrico Caruso, SVP National Sales Director, Don Hogan, Friend of 4 Copas) as they were introducing their new 4 Copas Organic Agave Nectar, and serving sliced roasted Agave along with their fine Tequila. 4 Copas Organic Agave Nectar is due to hit the shelves any day now. What better product to use in a mixed drink than another natural and pure Agave sweetener... a wonderful addition that enhances the taste of the Tequila.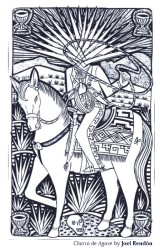 Their beautiful hand-blown bottles are adorned with the artwork of artist Joel Rendon of Mexico. Part of a 10 piece series, Joel's artwork blends the historical appreciation and reverence for the agave, the dead, the horse, and tequila.

4 Copas has been running strong for several years now and they have much to show for their tasty Agave products and hard work in such a short time period.
Two years in a row (2005-2006), 4 Copas Tequila took home the Gold, Silver, and Bronze medals at the San Francisco World Spirits Competition . And to end an already spectacular year, 4 Copas Reposado was included in Wine and Spirits Magazine in "The Best of 2006" year end issue for Tequila of the year.
In mid 2006, 4 Copas partnered with world famous celebrity Chef Sam Choy of Hawaii to promote their Tequila brand and entertained/showcased their products at the following events:
2006 Playboy Golf Tournament, San Diego
Better Brands Hale Aina Golf Tournament
Black Gold "OC" Pro Am
Malibu International Film Festival
The Tom Leykis Show
Cox Communications Celebrity Golf Classic
NFL Alumni Celebrity Golf Classic
Western Outdoor News 2006 Saltwater Rodeo
Maui Jim 2006 Hawaii Marlin Tournament Series
4 Copas Tequila has definitely carved a name in the Tequila industry, and are strong contenders in the ring of premium Tequilas!