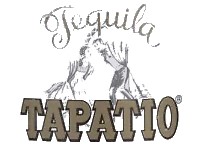 After 75 years of distilling Tequila in Arandas and selling throughout Mexico, the venerable Tequila Tapatio has arrived in the U.S.
Distiller/owner Carlos Camarena has developed cult like status with Tequila lovers. The hard to obtain Tapatio brand stands alone with its traditional Tequila flavor profile accenting the 100% Highlands Blue Agaves. Why is it so loved?
The Carlos Camarena Family distillery La Altena distills its Tequilas only from estate grown blue agaves. When Charbay's father and son team decided to distill their own Charbay Tequila, the Camarenas invited them to distill with them.
The two families shared distilling methods. The family friendship expanded into Charbay becoming the exclusive USA Importer of the Tequila Tapatio brand. "I am still in awe of the complexities of distilling Tequila," says Miles Karakasevic, Master Distiller/Owner of Charbay. "Tequila fans should visit La Altena."
True Tequila aficionados and star bartenders make the trek to Carlos Camarena's La Altena Distillery as a right of passage into the old family world of Tequila. Enlightened by Tapatio's intriguing flavor profile, many have tried for years to get it into the US. Finally the friendship & trust of two distilling families opened the exporting channels.
Tapatio sets the bar for the old authentic flavor that is disappearing in modern Tequilas. Their lore is backed by 75 years of one family's dedication to the old methods of production.
Suggested retail is $34 per liter bottle
Available in: California (MK Spirits), New York (Martin Scott), New Jersey (Martin Scott), Nevada (SWS), Missouri (Vintegrity), New Jersey (Martin Scott), Florida (Vinecraft), Texas (Virtuoso), Maryland (Bacchus) and Wisconsin (Los Altos Agave Distributors).
Contact:
Susan Karakasevic
707-963-9327