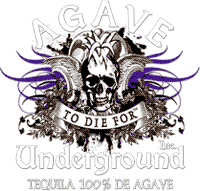 California-Based Agave Underground Tequila Signs Distributorship With Wirtz Beverage Group
Agave Underground (www.agaveunderground.com), an exclusive tequila company based out of Orange County, California, announced today they signed a distributorship agreement with Wirtz Beverage Group – Minnesota.
"We are absolutely thrilled to be a part of such an established and reputable organization. We are eager to build our relationship with Wirtz Beverage Group to ensure the success of the Agave Underground Tequila brand throughout the state of Minnesota," stated Mike Ivey, President of Agave Underground.
All three of the Agave Underground Tequilas – Silver, Reposado and Anejo – are produced from the finest quality agave plants harvested in Jalisco, Mexico. "All three tequilas have a very distinct taste. The Silver is citrus based – very fruit forward, while the Reposado and Anejo tequilas are aged 9 to 18 months in whiskey barrels to produce very unique agave flavors," stated Ivey. "Agave Underground is anxious to distribute the tequilas to the consumers in the Minnesota marketplace. It is another exciting chapter in our journey to continuously provide quality products to tequila connoisseurs," concluded Ivey.
In addition to launching the products throughout the state of Minnesota, Agave Underground Tequila is distributed throughout Arizona and Colorado and found in various restaurants and bars in California. To learn more about Agave Underground events, log onto the website www.agaveunderground.com or please visit Facebook.com/AgaveUnderground or Twitter.com/#!/AgaveUground.
Established in 2009, Agave Underground was started by Mike Ivey, who not only was an avid connoisseur of tequila but was intrigued by the story and history behind the making of tequila. Agave Underground has mastered and perfected three unique tastes of their tequilas: Silver, Reposado and Anejo. In addition to recently establishing distributorship in Minnesota, they are a part of Hensley & Co based in Phoenix, Arizona, and Republic National Distributing Company (RNDC) based in Colorado. For more information about the tequilas and company, please log onto www.agaveunderground.com or call 949-679-4202.
A member of the Wirtz Beverage Group since 1956, it is one of the nation's oldest beverage alcohol distributors. Focused on wine, beer and spirits distribution, the company's statewide saturation makes it among the state's leaders. Focused on technology and innovation, Wirtz Beverage Group helps deliver industry leading growth with many of the world's top luxury and premium spirit, wine and beer suppliers. The company is committed to providing customers and suppliers with a best-in-class model for continued success. For more information, please log onto http://www.wirtzbeveragegroup.com
Please drink responsibly.