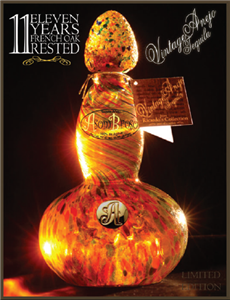 California Tequila, LLC, Maker and Importer of the AsomBroso Brand of ultra-premium tequilas, is proud to announce the release of the extremely limited quantity:

AsomBroso "Vintage" 11-year aged Añejo Tequila

To be called Añejo, tequila must be aged at least one year in oak barrels 600 liters or smaller. Extra Añejo is a relatively new category and requires the tequila to be rested at least three years in oak barrels not larger than 600 liters. And, from its inception, to be called AsomBroso, its Añejo had to be aged at least five years. Its five-year maturation in relatively new French Oak casks gives AsomBroso its storied aroma, flavor profile and award-winning taste.

Now comes a new unofficial category: Vintage…comprised of only one entrant: AsomBroso 11-Year Añejo. Its purebred quality is the pinnacle of century-old manufacturing traditions virtually unheard of outside of the Tequila Elite of Mexico. This is the first and only 11-year añejo tequila to be sold in the world. While there is no Vintage nomenclature for tequila as regulated by the Mexican CRT (the official Tequila Regulatory Council), for all intents and purposes, this is a Classic Vintage tequila from my own collection. This Vintage 11-year añejo tequila was rested in 220 liter French Oak casks, is certified by the CRT, and its offering will be the first of its kind outside of a select "inner circle" in Mexico.

As detailed by Ricardo Gamarra, Founder and President of California Tequila, LLC, "Over two decades ago, Enrique Fonseca Sr., a renown agave grower and tequila maker, had an idea…to take his best organically grown agave and use it to make a special longer aged, extra special tequila for his friends." After a ten-year growth period, he hand selected the 100% Blue Agave plants to become this special tequila. He then took his freshly distilled premium silver tequila and sealed a cache of it into a few small French oak casks as part of his experiment in making a longer aged Añejo.

Ricardo further explains, "Now, 21 years after Fonseca Senior's inspiration, and after aging 11 years in the small casks, I have convinced his son and my partner, Enrique Fonseca Jr., to let me bottle and distribute some of this unique family legacy."

This vintage tequila is best enjoyed in a flared shot glass or short champagne style flute. Pour some into the glass, and the tequila adds a rich golden hue, and one swirl shows off its tawny "legs". The initial nose has a sweet intensity, with hints of butterscotch and caramel. As you inhale you get hints of honey and oak and a bit of cinnamon. Your initial taste is warming to the throat with an agave hint and a seductive bouquet. Your subsequent sips reveal an especially smooth oak flavor with a short but sweet finish. As Ricardo adds, "This 11-year añejo tequila is a true competitor to the world's finest aged spirits that represents the inextricable ties between Mexican Culture and tequila. And, it fits well with Enrique Fonseca Sr.'s dream of creating a Superb sipping tequila for his close friends to enjoy."

The new AsomBroso "Vintage" 11-Year aged Tequila is available in limited quantity and in limited distribution. It is bottled in a special Limited Edition "Bella Age", hand-blown bottle that retains the now familiar trademarked AsomBroso decanter bottle shape. Estimated retail price is between $900 and $1000 per bottle.
For more information visit www.AsomBrosoTequila.com