Upgraded Bottle Design Befitting the Heritage and Hand-Craftsmanship of the World's Original Rock 'n Roll Tequila
SAN FRANCISCO, CA – The world's most distinctive ultra-premium tequila, Cabo Wabo®, is ready to rock a whole new look. Skyy Spirits, the US-based wholly owned subsidiary of Gruppo Campari and the definitive marketer and distributor of super-premium and luxury spirits brands in North America, today unveiled a vibrant new packaging design for Cabo Wabo Tequila that will start to appear on store shelves and in bars this summer.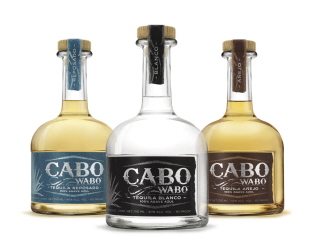 After more than a decade, Cabo Wabo Tequila has received a makeover befitting its heritage. The new packaging is inspired by Cabo Wabo's origins: from the legendary cantina in Cabo San Lucas that has welcomed the world to join the party; to the sun-drenched agave fields in Jalisco, Mexico where this award-winning tequila first started many years ago; to the rock and roll attitude of its founder, Sammy Hagar.
Each bottle now features clean lines and clear glass to showcase the color, brilliance and quality of the hand-crafted 100% Blue Weber Agave tequila. The glass bottle provides a fresh, modern look that is juxtaposed by a tactile label recalling a village shop deep in Mexico, where one might find rough-hewn, hand-crafted papers and items made from hammered, glimmering steel.
The new Cabo Wabo Tequila bottle design is an achievement in contrast - blending authentic Mexican heritage with contemporary styling," says Alexis Pagis, Senior Brand Manager for Cabo Wabo. "It continues the vision of Cabo Wabo founder and Rock and Roll Hall of Famer Sammy Hagar by infusing a sense of quality and sophistication with a real shot of rock-n-roll energy.
On the bottle, metallic foil illuminates the crest of the Cabo Wabo logo with distinct panoramas printed on the flipside of each label. These features, combined with torn edges on the neck label, offer a striking and immediate expression of vibrancy and sophistication infused with a punch of hard driving attitude that's inherent in the personality of Cabo Wabo Tequila. The new packaging design was created by design firm Meat & Potatoes located in Burbank, CA. The firm specializes in print, packaging and advertising designs that are cutting edge and dedicated to the art of it all.
This new look is a nod to the artisanal and authentic nature of the original. It's refined; it's turned up; it's given a blast of rock; a shot of energy; a shot of Cabo Wabo baby," says founder Sammy Hagar. "I am really excited about this new look, and I hope everyone digs it as much as I do! Cabo Wabo rocks the world!
In January 2008, Cabo Wabo Tequila named Skyy Spirits the official marketer and distributor of its tequila portfolio in the United States; this followed the controlling-interest purchase of the brand by Gruppo Campari. The tequila portfolio, originally created by rock and roll legend Sammy Hagar, consists of Cabo Wabo Blanco, Reposado, Anejo, and ultra-luxury Cabo Uno (Cabo Uno's packaging remains unchanged). Cabo Wabo Tequila is bottled at the newly acquired Distiladora San Nicolas in Jalisco, Mexico.
About Cabo Wabo Tequila
Cabo Wabo Tequila was originally created by Sammy Hagar to have a superior tequila to serve his friends and in his Cabo Wabo Cantina in Cabo San Lucas, Mexico. A stickler for authenticity and quality, Cabo Wabo is made from 100% Blue Weber Agave and comes in four different types including Blanco, Reposado, Anejo and Cabo Uno. It is acknowledged as one of the finest tequilas in the world.
While Skyy Spirits' parent company, Gruppo Campari, now owns a majority share in Cabo Wabo Tequila, Sammy Hagar continues to own a significant share in the brand and remains intimately involved in Cabo Wabo Tequila's quality guidelines, strategic development, and, of course, as its spokesperson. More information on Cabo Wabo Tequila can be found at www.cabowabo.com .
About Skyy Spirits, LLC
Skyy Spirits, LLC is the US-based wholly owned subsidiary of Gruppo Campari Gruppo Campari (Reuters CPRI.MI - Bloomberg CPR IM) and the definitive marketer and distributor of super-premium and luxury spirits brands in North America. Launched in 1992 with the introduction of its flagship brand, SKYY® Vodka, Skyy Spirits has grown exponentially, building a portfolio unrivaled in its quality, innovation and style, making it a top choice among distributors, retailers and consumers. Skyy Spirits manages Gruppo Campari's portfolio in the US of such leading brands as SKYY® Vodka, SKYY90®, SKYY InfusionsTM, Campari®, Wild Turkey® Straight Kentucky Bourbon, American Honey™, Russell's Reserve®, Cabo Wabo® Tequila, Ouzo 12®, X-Rated® Fusion Liqueur® and Jean-Marc XO Vodka®. Skyy Spirits is also the exclusive US distributor of Cutty Sark® Scotch Whisky, The Glenrothes® Single Malt Scotch Whisky, Bowmore® Islay Single Malt Scotch Whisky, Auchentoshan® Lowland Single Malt Scotch Whisky, Glen Garioch® Highland Single Malt Scotch Whisky, Flor de Caña® Rum, Carolans Irish Cream®, Tullamore Dew Irish Whiskey®, Irish Mist® Liqueur, Midori® Melon Liqueur, ZEN Green Tea Liqueur TM and The Yamazaki® Single Malt Whisky.
Skyy Spirits was founded and is headquartered in San Francisco, California. More information on the company can be found at www.skyyspirits.com and www.camparigroup.com. Please enjoy Skyy Spirits brands responsibly and in moderation.
About Gruppo Campari
Gruppo Campari is a major player in the global beverage sector, trading in over 190 nations around the world with a leading position in the Italian and Brazilian markets and a strong presence in the USA and Continental Europe. The Group has an extensive portfolio that spans three business segments: spirits, wines and soft drinks. In the spirits segment its internationally renowned brands, such as Campari, SKYY Vodka and Wild Turkey stand out. It also has leading regional brands including Aperol, Cabo Wabo, CampariSoda, Cynar, Glen Grant, Ouzo 12, X-Rated, Zedda Piras and the local Brazilian brands Dreher, Old Eight and Drury's. Its wine segment boasts the global brand Cinzano, as well as important regional brands including Liebfraumilch, Mondoro, Odessa, Riccadonna, Sella & Mosca and Teruzzi & Puthod. The soft drinks segment comprises the non-alcoholic aperitif Crodino and Lemonsoda as well as its respective line extension dominating the Italian market. The Group employs over 2,000 people. The shares of the parent company, Davide Campari-Milano S.p.A. (Reuters CPRI.MI - Bloomberg CPR IM), are listed on the Italian Stock Exchange. www.camparigroup.com
Contacts:
Jenni Hart
Skyy Spirits
415-315-8000
This email address is being protected from spambots. You need JavaScript enabled to view it.

Sean Carroll
Benson Marketing Group
707-254-1167
This email address is being protected from spambots. You need JavaScript enabled to view it.