Casa Casco Viejo supports Zero-D technology to recycle Vinazas, the waste generated through the Tequila production process.

ZERO-D Ecological Recovery "100% Environment Friendly, 0% Waste"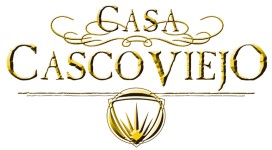 TEQUILA.net, June 11, 2009 -- Casa Casco Viejo is a family-owned distillery founded in 1938, in Jalisco, Mexico. It is among the top 4 producing distilleries, with more than 3 million Agave plants, land comprising of 1500+ hectacres, and a production capacity of 120,000 cases per month. This amount of production requires a vast quantity of resources: water (over 40,000 liters per day), energy, and human labor.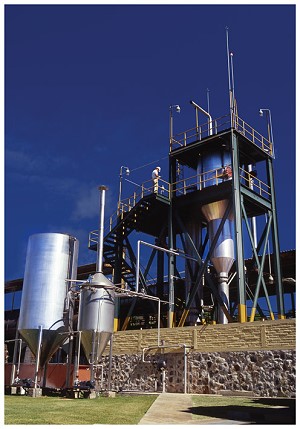 Concerned for the balance between Industry and nature, and willing to be recognized as a company committed to be socially responsible, Casco Viejo developed one of the most modern devices for recycling the remaining elements discarded throughout the production of Tequila, and began using this technology in late 2007. Designed by the company's engineers and patented in Mexico, ZERO-D has been recognized by the Mexican Government for its efficiency at a level where all Tequila producers are encouraged to apply it in their production process.

"Using the latest technology and committed to fulfill the norms stated by the Alcoholic Beverages Industry, we designed 'ZERO-D Ecological Recovery', and our objective is not only to contribute to the maintenance of our ecological surroundings, but also to offer important economic benefits to other companies," says Managing Director Juan Carlos Camarena.

The process consists of three steps:

1. Solid Separation
Residual waters produced from the Tequila production process are called "Vinazas", which contain 'biochemical demand of oxygen' pollutants, such waste represents values above 26,000 ppm of sugars and over 8,000 ppm of solids, with temperatures oscillating between 183º and 185º F. ZERO-D converts those pollutants below 150 ppm of sugars and 8 ppm of solids by separating solids from liquids at high speeds through a decanter.

2. Sugar Concentration
High levels of sugars in the "Vinazas" are concentrated in the inferior part of the chamber due to the elimination of liquids transformed in steam. Concentrated sugars can be used as food for cattle after being processed through the ZERO-D equipment.

3. Evaporation
Once "Vinazas" are almost free of solids, they are stored in a thermal tank that maintains temperatures above 176º F. The tank sends residual waters to a heat interchanger "liquid gas" where it reaches a temperature over 257º F, generating oversaturated steam that is injected in an evaporation chamber to completely eliminate any solid remnants. Steam is then transferred to a peripheral system of ZERO-D to be reused in the production of Tequila.

The Tequila industry noticed this important development created by Casa Casco Viejo, whose main purpose is the commitment to maintain the environment's balance for future generations. ZERO-D has several economic benefits that can be used by many other distilleries and help other industries to be more profitable. Some of the benefits are: Tequila producers can eliminate fees to the National Water Commission for the creation of pollutants in the production process; A discount in the payment of rights to the NWC for residual water cubic meters used when carrying out zero unloading; Steam can be reused in the production of products; Products obtained after treatment of solids and sugars separation can be commercialized; Lower operation costs; Accelerated depreciation of investment in the following year of acquisition; And the possibility of contract manufacturing with nearby companies for their "Vinazas" treatment. Besides these benefits, ZERO-D can treat waters from other industries, but of course, results will vary depending on the characteristics of each industry's residual waters.

In Casa Casco Viejo, we are committed to give our best by improving our production process and give something back to our beloved community in Arandas, ecologically speaking. We believe that environmental sustainability is an urgent issue, which is why we created ZERO-D. We firmly believe that an improvement can be done, not only in the production of Tequila, but also in other areas such as water recycling, energy production, etc.

As a new technology, officially approved and certified, we offer this system to anyone interested in increasing performance, and optimizing resources used in all distillation processes, regardless of product category. It works as well for all types of "Vinazas" or liquor production.

Casa Casco Viejo – Tequila Supremo S.A. de C.V. is responsible for these quality, nationally recognized Tequila brands: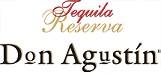 For further information, please contact:

ERIK ZÚÑIGA PEREGRINA
International Marketing & Public Relations Executive
Casco Viejo International Brands





Tel: +52 33 3836 4420 Ext. 186
Fax: +52 33 3836 4421
Mobile: +52 55 5406 2479
Nextel: 52*145*791

This email address is being protected from spambots. You need JavaScript enabled to view it.
www.cascoviejointernational.com