Maker of Tequila Herradura and el Jimador Becomes First Tequila Company to Win Prestigious Award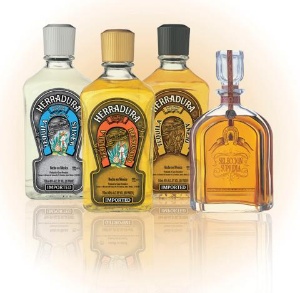 LOUISVILLE, Ky.--(BUSINESS WIRE)--Wine Enthusiast magazine has selected Casa Herradura as "Distiller of the Year" at its 2007 Annual Wine Star Awards competition. Casa Herradura, founded in 1870, is the first tequila distillery to win this prestigious award.
"We are honored that Wine Enthusiast has selected Casa Herradura as the 2007 Distiller of the Year," said John Hayes, Managing Director for Herradura Brands. "At Brown-Forman, we will be toasting the eight generations of the Romo family, the founders of Tequila Herradura, and everyone at Casa Herradura for making us so proud."
There were 45 nominees in nine award categories ranging from "Winemaker of the Year" to "Importer of the Year". Casa Herradura was selected for its outstanding contributions to the world of spirits, with special attention to achievements recorded in 2007.
Earlier this year, Casa Herradura received multiple medals from the San Francisco World Spirits Competition for Tequila Herradura and el Jimador.
"We had more qualified candidates than ever this year, from a wider range of wine regions," says Adam Strum, Editor & Publisher of Wine Enthusiast. "The traditional companies are showing vision in maintaining and improving the classics, while the newer companies are bold and creative. Both are pushing the boundaries further, and contributing to the growth and enjoyment of tine wine and spirits throughout the world."
Renowned for being the tequila industry's foremost innovator, Casa Herradura introduced the first Reposado tequila in 1974 and later launched the first Extra Añejo, Seleccion Suprema. In 1994, Casa Herradura launched el Jimador Tequila to honor the men who harvest agave plants. Today, el Jimador is the #1 selling tequila in Mexico.
Brown-Forman (NYSE:BFB) (NYSE:BFA) acquired Casa Herradura in January.
About Casa Herradura
Casa Herradura is one of the oldest and most respected producers of Tequila. Founded by Ambrosio Rosales and Aurelio Lopez, Casa Herradura is a Mexican treasure that, many believe, delivers the world's highest quality, most authentic tequila experience because of the expertise and leadership it has developed since 1870. Located and produced in the heart of Mexico's tequila region, in the tiny town of Amatitan, Jalisco, just outside of Guadalajara, Tequila Herradura is 100 percent blue agave tequila carefully crafted using traditional methods, such as cooking the agave in clay ovens and fermenting naturally with wild yeast. Tequila Herradura is all natural and estate bottled.
About Brown-Forman
Brown-Forman Corporation is a diversified producer and marketer of fine quality beverage alcohol brands, including Jack Daniel's, Southern Comfort, Finlandia Vodka, Tequila Herradura, el Jimador Tequila, Canadian Mist, Fetzer and Bolla wines, and Korbel California Champagnes.
About Wine Enthusiast Magazine
Founded in 1988, Wine Enthusiast Magazine's mission is to educate and entertain readers about wine and the wine lifestyle in an accessible and user-friendly way. Wine Enthusiast Magazine has grown to become world's most respected and quoted publications in the field of wine and spirits. The magazine is an important source of ratings and reviews of both wine and spirits currently available in the marketplace, vital to both consumers and trade. With a readership of 500,000 per issue, Wine Enthusiast Magazine is available in fine wine shops, tasting rooms and major bookstores nationwide. In addition, Wine Enthusiast Magazine develops signature events for both consumers and trade. The magazine and "Buying Guide" are also available online at http://winemag.com
Source: BusinessWire.com