Casa Sauza XA, Edicion Limitada Offers Refined Tasting Experience and Celebrates Three Generations of Tequila Heritage
Casa Sauza®, the family of tequila brands, heritage and craftsmanship since 1873 of Beam Inc. (NYSE: BEAM), announced an addition to its award-winning tequila portfolio today -- Casa Sauza XA, Edición Limitada (40% ABV). Expertly balancing Weber blue agave notes and rich wood characters, Casa Sauza XA, Edición Limitada (XA) marks the first global extra añejo expression for the brand. The launch of this exclusive, limited edition builds on consumers' growing interest in more sophisticated and refined tequilas. Aged for more than three years in small American oak barrels, Casa Sauza XA will be sold at fine liquor and retail establishments in the United States and Mexico, as well as duty-free shops around the globe.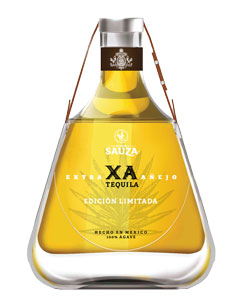 "Limited-edition bottling and special small batch, premium expressions are among the most significant new developments in the tequila category. Casa Sauza XA is an exciting addition to our portfolio," said Gigi Dadan, global tequila marketing director, Beam Inc. "This new, signature expression is a nod to our pioneering spirit and dedication to creating exceptionally fine tequila for today's sophisticated palates."
An ultra-premium, limited-edition tequila that embodies three generations of tequila making experience and innovation, Casa Sauza XA is masterfully crafted from Weber blue agave plants hand-selected by Sauza's expert jimadores and master distillers. With a pale golden amber hue, the distinct aroma of jasmine, hibiscus, almonds and chocolate resulting from three extra years in hand-selected new toasted barrels, Casa Sauza XA maintains Sauza's characteristic fresh agave notes while offering a refined tequila experience. Casa Sauza XA, Edición Limitada is crafted at Sauza's operations in Tequila, Mexico.
"With its extra age and rich, smooth finish, Casa Sauza XA, Edición Limitada is like a fine cognac or whisky," says Victormanuel Martinez, Casa Sauza executive chef and sommelier. "When served in a nosing glass, the aroma of Casa Sauza XA unravels, captivating the senses to deliver a refined, one-of-a-kind tasting experience. It's perfect when paired with coffee or rich desserts, such as tiramisu, black forest cake or even pecan pie."
A rare offering, only 12,000 750 ml bottles have been produced, including approximately 1,800 bottles for the U.S. Bottled in an elegant glass tequila decanter accented with a distressed leather strap and metal buckle and housed in a signature box, each bottle of Casa Sauza XA, Edición Limitada is individually numbered and has a suggested retail price of approximately $150 (U.S.) per bottle.