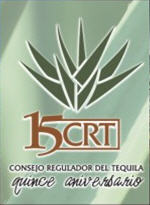 2009 represents a very special year for the Agave-Tequila Production Chain:
Fifteen years after the establishment of the Tequila Regulatory Council (CRT) the Agave –Tequila Production Chain has demonstrated a sustained growth and continuous development that have become an example to other appellations of origin and distinctive products from Mexico and other countries as well.
The CRT celebrates fifteen years of supporting the production chain in maintaining their quality and generating value and authenticity to be enjoyed by the consumer.
Fifteen years of working side by side with the Mexican government in the strengthening and enhancement of the First Mexican Appellation of Origin, the one of Tequila.
From November 4th through November 7th the Tequila Regulatory Council will celebrate with a series of international events evolving around the Appellation of Origin of Tequila.
A very special week including nine events that will describe and celebrate the evolution of the production chain throughout these years. These events will take place at the National Chamber of Commerce in Guadalajara.
The public in general will have the opportunity to closely experience the different aspects of Tequila, a symbol of the land, a national pride and a gift from Mexico to the world.
The XV Anniversary celebration includes the photographic exhibition "Tequila, ¿Qué haría sin ti?".
With this exhibit, people will have the opportunity to live through these images related with the Denominación de Origen Tequila, from the Paisaje Agavero, declared World Heritage for the UNESCO in 2006 . Starting from the process of the national beverage's par excellence production, all the way to the landscapes of the most significant municipalities that integrate La Ruta del Tequila. This exhibition will be integrated by pieces of Ben Olivares and Carlos Tomás, local artists that have dedicated part of their work to transmit the beauty of these elements, pride and symbol of all the Mexicans.
Ben Olivares is a Tequila and Agave Landscape photographer located in Guadalajara, Jal. México.
Opening: November 3rd, 8:30pm
Espacio del arte Televisa GDL.
Av. Alemania # 1469, Col. Moderna.
Guadalajara, Jal. Mexico
Tel. 3343.3200