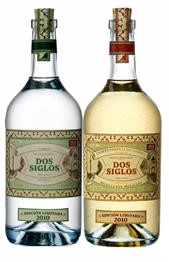 To commemorate Mexico's 200th anniversary of the beginning of its War of Independence, the Mexican government has unified several highly regarded Tequila distilleries and brands to participate in a "blended Tequila project", producing a new limited edition Tequila, Dos Siglos.
Out of 120 Tequila producing distilleries, 15 were chosen for their historical presence and consistent quality. Dos Siglos Tequila represents years of Tequila production, where equal amounts of 100 percent Agave Tequilas from 15 top brands are blended to create this new commemorative and celebratory spirit.
These selected Tequila brands donated their product for use in the project: Arette, Cazadores, Centinela, Don Julio, Don Roberto, Gran Orendain, Herencia de Plata, Herradura, Jose Cuervo, Maestro Tequilero, Pueblo Viejo, Reserva de los González, El Tesoro de Don Felipe, Tezon and Tres Generations.
Bottled under the Jose Cuervo NOM, each bottle is numbered, and available in 750ml presentations of Blanco and Reposado. Only 3600 bottles were produced, and will only be available in Mexico. All profits from the sales of Dos Siglos will be donated to selected social causes in Jalisco.
Characteristics
Dos Siglos Blanco
Aroma: Agave, light olive and smoke, with fruit and floral notes.
Taste: Sweet cooked Agave, floral and fruit hints, with a slight touch of maple and nut.
Dos Siglos Reposado
Aroma: Light wood, cinnamon and fruit, balanced with sweet cooked agave, and subtle notes of olive.
Tast: Sweet with hints of wood, cooked Agave, and almond.