Gold and Silver medals for "El Espolon" tequila in the Concours Mondial de Bruxelles 2008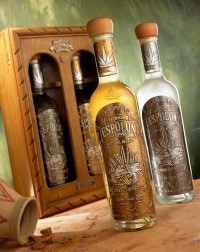 The Silver, Aged and Extra Aged 100% Blue Agave Tequilas El Espolón produced by Destiladora San Nicolás, won gold and silver medals in the Concours Mondial de Bruxelles 2008, an important International recognition for the quality of the Tequilas it produces.
A very important point for Tequila Espolón is that it's made by a 100% natural process and we don't use any single ingredient that could disturb it's fine and delicate flavor, which makes Tequila Espolón an excellent product to be enjoyed. Besides our Aged and Extra Aged Tequilas rest only in new Canadian oak barrels, which makes our Tequilas to have a singular and special flavor.
The high quality of our products has been recognized with more than 45 awards in different categories in Mexico as well as internationally. Today, Espolón is among the world's finest Tequilas, having received Double Gold, Gold and Silver Medals in 2001, 2003, 2004, 2005, 2006 and 2008 at the prestigious San Francisco World Spirits Competition, Superlative and Exceptional ratings by The Beverage Tasting Institute of Chicago, Silver Medals at the 2007 International Wine & Spirit Competition and the first places in several National Competitions in Mexico.
Contact
Company: Tequila Espolón
Name: Miguel Angel Vargas Martínez
E-mail: This email address is being protected from spambots. You need JavaScript enabled to view it.
Web: http://www.tequilaespolon.com
Source: Drinks Media Wire
http://www.drinksmediawire.com/afficher_cdp.asp?id=3355&lng=2