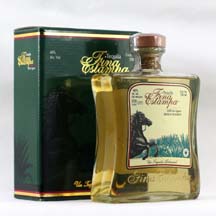 Award Winning Tequila Storms Florida—Targets Michigan...

For Immediate Release!
Fina Estampa forges a powerful partnership with Liquor Group, the fastest growing liquor distributor in the United States according to the Wall Street Journal. The award winning tequila storms through Florida, targets Michigan next.
Astoria/Salem, Oregon, September 27, 2006: Tequila Fina Estampa has forged a powerful partnership with Liquor Group of Florida, the fastest growing liquor distributor in the US according to the Wall Street Journal. The award winning artesanal tequila, imported by Sailing Star, Inc., has taken Florida by storm thanks to Liquor Group's unique and innovative sales force. On target is Michigan with Delaware in the cross hairs.
"Liquor Group is an aggressive spirits distributor that is rapidly gaining a foothold in 31 states and several international markets," announces Clark Munkel of Sailing Star, Inc. "Fina Estampa and Liquor Group are in for a ride!"
"Fina Estampa has gotten rave reviews," beams Munkel's partner, Todd Bowen. "It took the Silver Medal at the 2005 San Francisco World Spirits Competition, was voted one of Wine Enthusiast's top 50 must-have spirits of 2004, plus Best Buy with a rating of 90-95 in 2006."

In an era where spirits are mass produced, Fina Estampa is an artisan tequila handcrafted the old fashioned way. With selective agave harvesting and its own dedicated distillery, it is one of the few tequilas that is still estate grown and bottled.

"This gives Fina Estampa the edge to dominate more established corporate run producers," explains Bowen. "From the hand blown bottles to the wood cork tops, everything is done by hand."
"Liquor Group now has a true top shelf tequila in their arsenal that more than matches any of the big name competitors!" declares Munkel.
Originally created to manage the fast and furious sales of their famed Happy Vodka line, most of Liquor Group's sales associates are female ex-bartenders!
"An eight-thousand percent increase in Liquor Group's total sales in 2005 proves their methods work," says Bowen. "They've already hit the ground running in Florida and Michigan with several big placements for us. We're on track to launch in Delaware next."
"Tequila Fina Estampa is an excellent product with unsurpassed quality and presentation," states Gray C. Solomon, Liquor Group's Managing Partner. "It's a winner--and our customers love the price, too!"
--end--
Note to Editor
: For an exciting, fast-paced interview with Importers Clark Munkel and Todd Bowen of Fina Estampa, call
1-503-325-2302
or
1-800-721-8624
right now! More information on Fina Estampa is at
www.sailingstar.com
. Liquor Group info is available at
www.liquorgroup.com
or call
1-904-285-5885.
Hurry! Due to Fina Estampa's and Liquor Group's rapid rise, time slots are filling up fast!