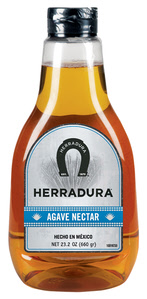 Louisville, KY. - TEQUILA.net - Possibilities are endless with blue agave nectar. This natural sweetener is an easy replacement for simple syrup, which is used in numerous cocktails, because of its remarkable taste, long shelf life and lower glycemic index, making it a strong alternative to sugar.
Agave nectar is a natural sweetener made from the blue agave plant, the same plant used to make tequila. The nectar though is made by cooking and filtering the sap from the piña, the heart of the blue agave plant.
The taste of the blue agave nectar is comparable, but not identical, to the taste of honey but is less viscous, making it perfect to sweeten cold drinks because it dissolves quickly. Plus, being a natural sweetener, it does not have a bitter aftertaste the way artificial sweeteners often do.
Tequila Herradura® is a big supporter of the blue agave nectar and has developed a brand of the nectar called Herradura Blue Agave Nectar that will soon be available for bars, restaurants and additional locations where fine spirits are sold starting in mid-July.
Mark Bacon, Herradura brand manager, believes that blue agave nectar is the best new element for any cocktail. "Herradura Blue Agave Nectar is a key ingredient in providing consumers with an exceptional cocktail experience. Its less viscous texture dissolves quickly, delivering a smooth and even taste in cold cocktails," he said.
Tim Laird, Brown Forman's chief entertaining officer, believes this product will really add that special touch to any summer cocktail. "Blue agave nectar is a great replacement for some of those other simple syrups used in various mixed drinks. And with summer already here, having the perfect summer cocktail with the perfect ingredient is key," said Laird.
With an affordable price and a great taste, blue agave nectar is perfect for any ice cold drink during the summer heat. Try blue agave nectar in one of these incredible Herradura cocktails:


Herradura Fresh Margarita
1 ½ oz Herradura® Reposado
½ oz Cointreau®
1 ½ oz Herradura Blue Agave Nectar
1 ½ oz Fresh squeezed lime juice
In a shaker filled with ice, add ingredients, shake to mix.
Serve with an optional salt-rimmed rocks glass.




Herradura Luxe
2 oz Herradura® Blanco
1 oz Herradura Blue Agave Nectar
1 oz Water
2 Lime wedges
2 Lemon wedges
In a rocks glass, muddle lime and lemon wedges.
In a shaker filled with ice, add remaining ingredients.
Shake to mix and transfer to rocks glass.




Herradura Mojito
2 oz Herradura® Blanco
1 oz Herradura Blue Agave Nectar
1 oz Lime juice
4 mint leaves
2 oz Club soda
In a shaker, muddle mint leaves. Add ice and remaining ingredients. Roll to mix. Pour into a tall Collins glass.
Please enjoy our handcrafted tequila responsibly.
Alc. 40% by Vol. (80 proof) Tequila imported by Brown-Forman, Louisville, KY ©2009
For more information or for photos of the drinks above, please contact David Page at 502-774-7701.
Brown-Forman Corporation is a producer and marketer of fine quality beverage alcohol brands, including Jack Daniel's, Southern Comfort, Finlandia, Canadian Mist, Fetzer, Korbel, Gentleman Jack, el Jimador, Tequila Herradura, Sonoma-Cutrer, Chambord, Tuaca, Woodford Reserve, and Bonterra.For more information about Brown-Forman and our brands, please visit our website at www.brown-forman.com