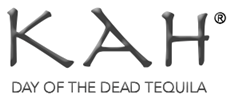 The up-and-coming brand once and for all triumphs in a formidable legal challenge posed by the parent company of a high-profile celebrity-backed vodka
TEQUILA.net - Though launching a new product is not easy for any company, Elements Spirits, Inc. and its brand KAH® Tequila ended a difficult 2010 on a high note. Its latest victory represented its right to exist and launch nationwide, even as rival company Globefill, Inc., parent company for the high-profile, celebrity-backed Crystal Head Vodka, continued its bid to stop the award-winning tequila from hitting stores and restaurant shelves.
KAH® launched officially on December 1, 2010 after several delays caused by actions Globefill, Inc. took against the fledgling tequila brand back in the spring. KAH® was originally slated to launch in March, when Globefill filed a lawsuit charging alleged trademark infringement and unfair competition. Globefill then tried to prevent distribution of KAH® Tequila in the United States by filing a motion for preliminary injunction. On June 18, 2010, Judge Consuelo B. Marshall of the Central District Court of California issued an order to dismiss Globefill's allegations against KAH®.
From Judge Marshall's decision forward, KAH® went on to win several industry accolades including tasting panel competition awards and a highly coveted product packaging design award from trade magazine Beverage Dynamics. This set the stage for KAH's® debut on the national and international spirits industry stage.
However, in the interim, a second complaint and motion for preliminary injunction was filed against Elements Spirits, Inc. by Globefill, Inc., which at the time of the official launch of KAH® Tequila was under submission and awaiting ruling by Judge Marshall. In one final desperate attempt to stop Elements Spirits' progress, the day after the launch of KAH®, Globefill filed a temporary restraining order supported by the testimony from a sales manager of Infinium Spirits, importer of Crystal Head Vodka, who claimed that consumers would inadvertently purchase KAH® Tequila assuming it was Crystal Head Vodka.
On December 4th the acclaimed tequila line's right to exist won out, and the courts threw out Globefill's final efforts to put its perceived competitor out of business.
"The timing of the launch and the circumstances we ran into made for a very bittersweet situation," details Brandi. "Globefill was persistent in its drive to stop us, down to the very next day after our launch. However, three turned out to be the charm in terms of our pushing back against Globefill. We are proud of our success, even as our limited resources as an independent firm was heavily taxed in our fight to stay alive. We are so grateful to our attorney, Robert A. Rivas, the courts as well as our distributors, retailers, industry professionals and consumer tequila enthusiasts who did everything in their power to keep our ambitions alive over the course of this year."
Globefill's case against KAH® hinged on allegations that the package designs of these two very different products were similar. However, confident that KAH® Tequila stood boldly on its own as a truly unique product line Brandi and Elements Spirits were able to provide more than sufficient proof that the inspirations behind KAH's® now award-winning package design and artisanal tequilas were wholly original, and Globefill's motivations were more solidly rooted in their motivation to fend off prospective competitors. The courts agreed, especially a few days ago, when they threw out Globefill's final bid to prevent KAH® from reaching a national audience.
"It has truly been a pleasure working with such an entrepreneurial, creative, intelligent and down-to-Earth person such as Kim Brandi as well as her formidable team made up of industry veterans, including one of the most entrepreneurial and cutting-edge persons in the history of the industry who seemingly is always ahead of his time." says company attorney Robert A. Rivas, International Practice Group Partner at AlvaradoSmith, PC., whose dedication to the brand paved the way for its eventual victory. "Ms. Brandi inspired us and we, in turn, supported her dream and goal. We were also inspired by the fact that Ms. Brandi had the spirit and courage to go to battle in one of the most competitive industries in the world against a giant that attempted to claim a human skull as its own, and succeed at the kickoff. The law and facts were on her side and we are truly appreciative that the Court agreed. We wish Ms. Brandi, KAH® Tequila and the whole team the best of luck and a great future. We are confident her creativity and free market competition will continue to be rewarded in the industry and protected by the law. Salud!"
With this first chapter behind her, Brandi assesses the brand can begin its next chapter and 2011 with great confidence. "Between our legal victory and our industry-based awards, there is nowhere to go but up."
KAH® Tequila is a product of and marketed by Elements Spirits, Inc. Imported by Worldwide Beverage Imports, LLC., producer of fine quality, organic and Kosher products such as Agave 99® Tequila and Ed Hardy® Silver Tequila. Please sip your tequila responsibly. For more information on KAH ® Tequila, visit www.KahTequila.com.