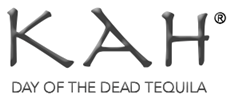 KAH® Tequila fulfills its promise with its official national introduction and roll-out
TEQUILA.net - While it is never easy to launch a new product of any kind, Kim Brandi, Founder & CEO of KAH® Tequila, had challenges with the launch of her ambitious ultra premium tequila line that not even she could have predicted. Today, with perseverance, a positive attitude and a lot of support, she now has bragging rights and a solid, award winning product line that will be hitting retail shelves in major US markets on December 1.
The official debut of KAH® Tequila to a wider audience is made all the more stellar by the fact that the pre-debut demand and order requests around the world have been unprecedented. Currently, all 15,000 cases of existing inventory of the Blanco, Reposado, Anejo and Extra Anejo varieties were sold-out in advance to 15 key markets in the U.S. including Los Angeles, New York, Chicago, Texas and Georgia as well as internationally to Australia, New Zealand and France. At the time of this release, demand is exceeding supply.
There have also been substantial orders from Mexico—a major feat in itself given that Mexico is the proprietary home of Tequila, with many brands jousting for a very picky and understandingly discerning group of consumers.
Though the overwhelming early response to KAH® Tequila, as well as high profile industry awards from the 2010 Spirits of Mexico Festival and The Beverage Dynamics Advertising & Promotion Awards in Best New Product Packaging, are impressive achievements for a new product. Founder/CEO Kim Brandi likens this surge in interest to the arrival of the iPhone—a product so highly anticipated that supplies sold out before the products hit the shelves, even with some critics, controversies and a few bugs that needed to be worked out.
With that in mind, Brandi says without blinking that the biggest achievement was surviving a series of challenges that would even break many established companies.
"It was obviously a big challenge to bring my concept of packaging Mexico's Day of the Dead traditions in a meaningful and authentic way, and in the planning, I achieved that goal as well as a superior and attention-getting artisanal bottle design," explains Brandi. "However, I also want to factor in other issues -- being a woman in a male dominated industry, being a small company taking on major corporations and producers and just getting a product out into a market that includes many excellent tequilas built around compelling concepts. When I combine that with industry politics and other unexpected hurdles I had to jump over, getting KAH® Tequila to market went beyond just a product launch. What's most important, however, is that now that it has officially arrived, there is a product that I can be especially proud of because of the fact people have embraced it in its entirety, from the fine spirit within to the hand-wrought bottles."
Brandi acknowledges that although there were moments during KAH's infancy that tested her patience and faith, she concludes the silver lining in this struggle was that there was ultimately a genuine rooting for the little guy (or gal, in her case, she muses) coming from both the trade sector and tequila enthusiast consumers. The increased exposure generated more interest and put KAH® tequila in the way of winning achievements and sales goals that would put it back on course and on record as one of 2011's "Most Likely to Succeed" spirits products.
"There will always be challenges, given the increased competition in the tequila category, the economy, and other factors," says Brandi. "However, I believe getting through a first year like this can effectively prepare me for challenges and milestones that lie ahead."
KAH® Tequila is a product of and marketed by Elements Spirits, Inc. Imported by Worldwide Beverage Imports, LLC., producer of fine quality, organic and Kosher products such as Agave 99 Tequila and Ed Hardy Silver Tequila. Please sip your tequila responsibly. For more information on KAH® Tequila, visit www.KahTequila.com.