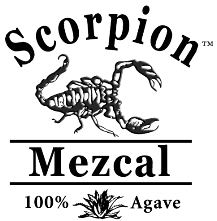 Tonight was a venture into Denver's icy, rutted, potholed streets, but definitely worth the trouble.
We met at Mezcal, a vibrant Mexican Restaurant across from the Bluebird Theatre. An array of customers included cowboys, families, downtown coolies, and a few suburbanites that came to taste the Scorpion Mezcal and dinner.
We sat and enjoyed a Mezcalito before dinner, and soaked in the Christmas lit, Lucha Libre theme.
The first course was Tamal de Cochinita Pibil - Slow cooked suckling pig tamale with red chili, caramelized onions and queso panela, paired with Scorpion Mezcal Reposado .
The second course was Jumbo Lumb Crabcake, with fire roasted tomato & avocado salsa, paired with Scorpion Mezcal Silver .
The third course was Mixiote De Cordero - Oven roasted lamb wrapped in bannan leaves with root vegetables and achiote, paired with Scorpion Mezcal Añejo .
And for desert, Churros with warm berries, vanilla ice cream, and chocolate/caramel pudding.
The food was prepared by Chef Roberto Diaz, with exceptional distinction to the Scorpion Mezcal brands, which complemented each course flawlessly.
Sombreros off to Mezcal and Scorpion for a fantastic event!

Mezcal
3230 East Colfax Ave
Denver, Colorado
(303) 322-5219

If you missed this dinner, check out Chama Cocina Mexicana y Tequileria on February 5th at 6:30PM for a similar production, featuring 4 chefs, Sean Yontz of Chama, Roberto Diaz of Mezcal, Cy Yontz of Rio Grill (Carmel, CA) and Chris Douglas of Tula Latin Bistro. Call for reservations: (303) 935-5170