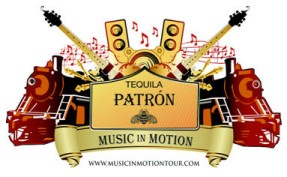 Fundraising Initiative Reminds People That Three Years Later, Much Work Still Remains to Revitalize and Rebuild New Orleans
NEW ORLEANS - Shortly after Hurricane Katrina hit New Orleans and the Gulf shore, people around the country and across the world generously donated relief funds and volunteered their time to help. Just a few short weeks from now marks the third anniversary of that devastating day – and a reminder that help and contributions are still very much in need to bring this region fully back on its feet.
This summer, Patrón tequila has partnered with New Orleans' St. Bernard Project and Preservation Hall to create a national fundraising initiative called the Music in Motion tour (www.musicinmotiontour.com). The centerpiece of this program is a vintage 1927 train car, The Patrón Tequila Express, which is riding the rails from city to city collecting donations and offering a once-in-a-lifetime opportunity for people who raise the most money to ride the train to attend music-related events. The train departed from New Orleans on July 17 and is scheduled to visit such cities as Chicago, Indianapolis, Cleveland, Los Angeles, Washington, D.C., Baltimore and New York (and all points between).
"Our train car, completely refurbished to its original 1920s grandeur, spent considerable time in New Orleans and was often used by Louisiana dignitaries back in the day before jet travel," says Matt Carroll, chief marketing officer of The Patrón Spirits Company. "Using our one-of-a-kind rail car, the Music in Motion tour celebrates the vitality and rich cultural heritage of New Orleans while spreading a message that support is still greatly needed to help the people of this great city."
To participate in the Music in Motion tour, people simply log on to www.musicinmotiontour.com and select one of the two participating local charities: St. Bernard Project or Preservation Hall. The site will then direct visitors to set up a fundraising page through FirstGiving.com, where they can invite friends and family to start donating. People who raise the most funds will be eligible to win prizes, including the opportunity to ride the train with their friends to attend a music event in a nearby city. Prizes also include an all-expense-paid trip for two to the 2008 Video Music Awards in Los Angeles and a red-carpet event at a New York City hot spot. Most important, all money raised will directly benefit efforts in New Orleans to rebuild homes and help bring music and musicians back to the city.
The St. Bernard Project is a community-based organization that began rebuilding homes in August 2006 that were damaged by floodwaters from Hurricanes Katrina and Rita in St. Bernard Parish. St. Bernard Parish is a uniquely tight-knit, working class community adjacent to New Orleans' Lower Ninth Ward, the area hardest hit by the storms. To date, the St. Bernard Project has rebuilt 131 homes and is currently working on more than 30 others. Using volunteer labor, skilled supervisors and donations for building supplies, it takes an average of 12 weeks and $12,000 worth of materials to completely rebuild a house.
Preservation Hall is the best-known and most respected music organization in New Orleans. Founded in 1961, Preservation Hall is a sanctuary dedicated to protect and honor New Orleans jazz. The hall's mission, to perpetuate the musical and cultural traditions of New Orleans, took on an increasingly important urgency post-Katrina. Through Preservation Hall's music education programs, the organization is ensuring the future of the city's great musical legacy through student/musician lessons with jazz veterans, after-school mentorship and cultural awareness.
In addition to personal donation pages, the Music in Motion tour will raise funds for these charities through an auction of music memorabilia at the end of the tour. At each train stop, the tour is picking up music-related items that will be auctioned off during the tour's culminating event in New York in September and online at the Music in Motion website.
Partners on the Patrón Music in Motion tour include Gibson, Fiji Water, and Zazzle. For more details about the tour, please visit www.musicinmotiontour.com. For information about The Patrón Spirits Company and its portfolio of ultra-premium spirits (Patrón tequila, Pyrat rum and Ultimat vodka), visit www.patronspirits.com .
Contact:
Greg Cohen
The Richards Group
214-891-3544 office
917-714-8237 mobile
This email address is being protected from spambots. You need JavaScript enabled to view it.