Tres Agaves Celebrates On the Heels of Mexican Independence Day with the Launch of their Exclusive Tres Agaves Tequila Casa Noble Single Barrel Reposado
First Northern California Account for Casa Noble to Co-Brand Exclusive Tequila
(San Francisco, CA) -- Mexican Independence Day was extra special celebration for Tres Agaves Restaurants because it marks the introduction of their exclusive Tres Agaves -Tequila Casa Noble Single Barrel Reposado. This is the first time that one of Tequila Casa Noble's Northern California accounts has co-promoted exclusive Tequila. To mark the occasion, owner of Tequila Casa Noble, Jose "Pepe" Hermosillo, visited Tres Agaves Roseville on Wed., Sept. 16 for Mexican Independence Day and Tres Agaves San Francisco on Sept. 17 as their guest of honor at their September Distillery of the Month dinner.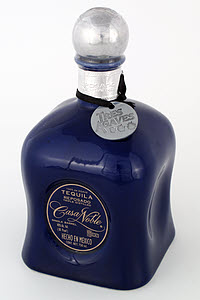 Earlier this year Hermosillo, the seventh generation family member to oversee Casa Noble, approached Tres Agaves about the opportunity to participate in Casa Noble's Single Barrel program where Tres Agaves would choose a barrel that would be exclusively available in their restaurants and Tequila Shop. "We were honored to be offered this opportunity for our own exclusive Tequila that would be co-branded with a distillery of Casa Noble's caliber," explained Ashley Miller, executive beverage director for Tres Agaves Restaurants.
Casa Noble had developed a great respect for the Tres Agaves concept and its dedication to educating staff about Tequila so that they can impart their knowledge and passion to their guests. "Tres Agaves embodies the art of creating a perfect atmosphere for people who love great Mexican food, friends and the largest selection of premium 100% agave tequilas you can imagine," added Hermosillo. "Tequila has become the center of attraction at Tres Agaves, as their staff is extremely knowledgeable about Tequila in general, and Tequila brands in particular, and will guide you through a fun and enlightening experience."
The experience of choosing the right barrel for the partnership was a journey itself. "We took eight employees to Jalisco, Mexico earlier this year for one of our quarterly staff education trips. However, this group had the distinct honor of getting to choose the Casa Noble single barrel," stated Miller. Tres Agaves' team members were essentially "master distillers for a day".
"All of the education we'd acquired from visiting other distilleries, tasting many of the 130+ marques Tres Agaves serves and taking copious tasting notes, served us that day. The decision was unanimous when we chose which one of the six barrels would become our exclusive Tres Agaves Casa Noble Single Barrel Reposado," said Miller. The barrel will be on display in Tres Agaves Restaurants.
Tres Agaves Tequila Casa Noble Single Barrel Reposado boasts a favor profile that is spicy like smoked tobacco, dry yet fruity with hints of dark chocolate. Out of the several barrels tasted, the chosen barrel had the most complexity and smoothness. The chosen barrel held 228 liters, aged in French White Oak with a light char and rested for 51 weeks and 2 days.
Only 60 cases were bottled and will only be available to taste for $12 at Tres Agaves Restaurants. Individual bottles retails for $64.99 at the Tres Agaves Tequila Shop in Roseville, CA. As the Tres Agaves Distillery of the Month, bottles sales will receive an additional 10% discount through September 30.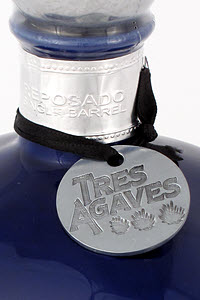 Tres Agaves continues to intensify their Tequila education program for their employees and will soon offer more opportunities for guests to increase their knowledge as well. "We can now claim that Tres Agaves is a Tequilero. As our beverage program grows we're looking for new opportunities to 'walk the talk' in Tequila knowledge such as accreditation for the program. This is the next step to taking our knowledge to the next level and seeing what other opportunities that will bring," stated Miller.
Tequila's popularity throughout the world continues to explode. In a report by Dow Jones Newswires in January 2009 (as reported by Tequila.net):
The Jalisco-based Tequila Regulatory Council said national production last year rose 10% to 312 million liters, with production of tequila made entirely from the blue agave plant up 20% from 2007 to 163 million liters. Exports rose 1.7% to 137 million liters, with 100% agave tequila exports up 5% to 35 million liters, the council said.
The U.S. continues to be the biggest foreign market for tequila exports, followed by the European Union. A record 1 million tons of agave were used last year to produce tequila, the council added.
"Americans are embracing the complexities of Tequila. Distillers are getting away from the emphasis of consistency and emphasizing the complexities of each Tequila marque. It started with adding the Extra Anejo category and now we have even more sophisticated choices," added Miller.
"Our affinity with Tres Agaves comes from our mutual passion for Tequila," added Hermosillo. "Tres Agaves' passion for that knowledge will continue to make it the best Tequila bar in the United States.
About Tequila Casa Noble
Founded in 1776 Tequila Casa Noble is still family owned and operated by its seventh generation. Tequila Casa Noble provides the greatest tequila experience by offering products of exceptional quality and organoleptic features, and educating consumers about the wonders of pure, true 100%, USDA-certified organic tequila. For more information visit www.casanoble.com .
About Tres Agaves
Tres Agaves is the headquarters for enjoying 100% blue agave Tequila margaritas, selling more 100% blue agave Tequila than any other single location in the world. The original Tres Agaves Mexican Kitchen and Tequila lounge is located at 130 Townsend St. in San Francisco one block north from AT&T ballpark in the South Beach neighborhood. Tres Agaves features regional Mexican cuisine, primarily from the state of Jalisco. Jalisco, and its capital city of Guadalajara, are located in the Central Highlands, also known as the birthplace of Tequila. Tres Agaves features hand-squeezed, fresh lime margaritas, made from any of their 125 100% agave Tequilas. Their staff regularly travels to Jalisco, Mexico to tour distilleries, and they take great pride in teaching you about the world's finest distilled spirit, 100% agave Tequila. For more information visit www.tresagaves.com .
Contact:
Heather Atherton
Atherton Public Relations
916/316-4568
This email address is being protected from spambots. You need JavaScript enabled to view it.
---
Casa Noble - Tres Agave Single Barrel Reposado
I've always been a fan of Casa Noble, so of course I was excited to sample this single barrel Reposado bottled exclusively for Tres Agaves. I would highly recommend a snifter or Riedel full if you have the opportunity to visit Tres Agaves, either in San Francisco or Roseville, CA.
TEQUILA.net Review - Casa Noble, Tres Agave Single Barrel Reposado - 94/100
Appearance: clear, medium amber, copper hues - full body tears
Aroma: earthy sweet and spicy agave, light oak, vanilla & orange
Initial Taste: sweet agave, hints of vanilla & butter
Spirit Body: hot & spicy body, vegetal
Finish / Aftertaste: warm mouthfeel, medium length herbal & oak finish & mint aftertaste
Bold and full of flavor, don't miss out on this special edition!