LAS VEGAS — Following a brief trip to the headquarters of Don Fernando Tequila in Guadalajara, Mexico, California-based Exquisite Tequilas, Inc. (Don Fernando US Importer) has announced the launch of its new Special Edition tequila, TKO, a 100-proof premium tequila made from 100% agave. This exciting new product is packaged in a one-of-a-kind red boxing glove shaped bottle, and is a must have for every restaurant, bar, nightclub and collector. The special edition bottle holds 750ml of smooth tasting premium tequila.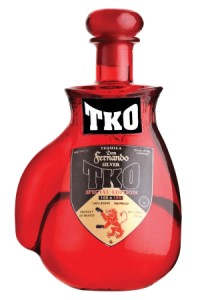 Exquisite Tequilas, Inc.'s chief of operations, Richard Valiente, based out of the company's Las Vegas office, is the mastermind behind this new innovative brand. "I knew there was more that could be done with the Don Fernando brand," Valiente said. "This exquisite tequila is for the tequila connoisseurs of the world as well as the boxing community, and we look forward to partnering with fighters, fight promoters and Ultimate Fighting champions around the world, as well as those in the entertainment industry, to promote this conversation piece."

"Boxing fans are familiar with the term TKO in reference to a technical knock out," Valiente said, "and we want everyone to know that our product is the real deal."

TKO is expected to be one of the most sought after tequilas in the marketplace, according to its distributors, and is positioning itself next to the likes of Don Julio and Patron tequilas. "It is our goal to have TKO distributed nationwide by years end," said vice president of business development Alexis Levi. "We are in the process of importing this exciting new product into the United States, with our first samples arriving by the end of January, and we are currently taking pre-orders from throughout the world for TKO Tequila, as the Don Fernando brand currently is already distributed in parts of Latin America, Russia, Europe and the U.S."

Since 1987, Don Fernando has been recognized as one of the premium brand tequilas worldwide, which is especially impressive since tequila is now recognized as one of the fastest growing spirits industries in both the United States and Mexico. Don Fernando's premium products, exported directly from México throughout the world, produces, markets and exports not only tequila, but Mezcal and low alcohol content beverages.

Don Fernando is renown for providing the freshness, flavor and color of Mexico by manufacturing high quality products, while establishing new trends in the development of spirit brands. Additional products soon to be launched by Exquisite Tequilas, Inc. include Don Fernando LUV Tequila and Don Fernando Tropiquila. LUV is an 80 proof/100 percent agave silver tequila flavored with a hint of almond that is packaged in a distinctive heart-shaped red, hand-blown 750 ml bottle. Tropiquila, on the other hand, is a cooler-type product that features the tantalizing taste of grapefruit mixed with 100-proof Don Fernando Silver tequila.

EXQUISITE TEQUILAS, INC.
Exquisite Tequilas Company, Inc. (ETCI) is an importer and wholesaler of distilled spirits, and is the exclusive importer of the Don Fernando (DF) Tequila brand. The products currently imported by the company are Don Fernando Silver, Reposado and Anejo tequilas, and the company's ultimate goal is to expand and further serve the major markets across the U.S. ETCI currently manages active marketing campaigns in Las Vegas, Miami and throughout Southern California (Los Angeles and Orange County), and anxiously awaits its expansion into the various other major markets throughout the U.S.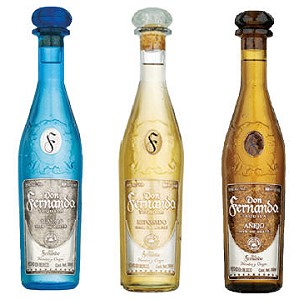 HISTORY:
Don Fernando Silver Tequila is packaged in a unique blue, hand-blown 750 ml bottle. Made from 100% agave, Silver has those unique flavors that no other premium tequila has, and is Don Fernando's most popular tequila at this time.

Don Fernando Reposado has created a new concept in tequila taste. This exquisite premium tequila is produced with the perfect balance of the flavors of a double-distilled tequila along with the flavors of the Limousine French barrel where it is aged. Reposado is packaged in a straw-colored hand-blown 750 ml bottle, much like Don Fernando Silver.

Don Fernando Anejo is aged for over twelve months in Limousine French barrels, and is a full-bodied, smooth tasting tequila, packaged in a 750 ml dark amber colored hand-blown bottle. Its taste also confirms the fact it's made from 100% agave, and proves that the doubledistillation process is used in its production.

CONTACT:
Richard Valiente
Las Vegas Office • 702-810-6609
Jim Ybarra
Corporate Office • 714-376-6040
Larry Menze
Las Vegas Office • 702-480-3489