TEQUILA DON JULIO® 70 AÑEJO CLARO
100% BLUE AGAVE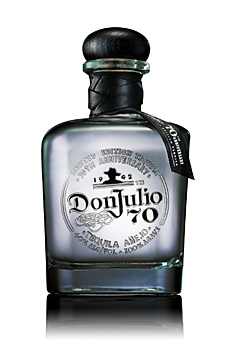 Tequila Don Julio® 70 Añejo Claro is a truly unique product that redefines the Añejo tequila category by embodying the rich, complex flavor of a traditional Añejo in a liquid that is filtered to become a clear spirit. This extraordinary tequila represents another evolution in the tequila category and marks the world's first clear Añejo, pioneered by Tequila Don Julio.
The luxury tequila of choice in Mexico, Tequila Don Julio uses only the highest-caliber, fully matured and ripened blue agave hand-selected from the rich, clay soils of the Los Altos region in Jalisco.
Tequila Don Julio 70 originated from Master Distiller Enrique de Colsa's special reserve and is being launched in honor of the 70th anniversary of the year Don Julio González began perfecting the art of tequila making. To create this unique masterpiece tequila, Tequila Don Julio hand selects the finest blue agave plants at the peak of their maturity. The agave is then hand harvested and twice distilled at La Primavera, the distillery founded by Don Julio González. Tequila Don Julio 70 is aged to perfection in reclaimed American white oak barrels for 18 months, then carefully filtered for extra smoothness and its unique clarity.
Tasting Notes:
Color: Clear and silver in color.
Nose: A bright and lively aroma opens up tones of fresh agave, wild honey, vanilla, citrus and strawberry, balanced with aged tequila notes of sweet toasted oak, caramel and milk chocolate.
Taste: Displays the exceedingly refined complexity of aged Añejo tequila balanced with the versatility and smoothness of a silver. Contains notes of fresh honey, black peppercorn, lemon and smoky agave that blend harmoniously with wood influenced vanilla, toasted almonds and tobacco. Lightly sweet and satiny body.
Finish: Concludes with a clean and smooth finish that is pleasantly warming with engaging lingering hints of chocolate and toffee.
Serving Suggestions:
Tequila Don Julio 70 can be enjoyed in many ways depending on the occasion and company, however, Master Distiller, Enrique de Colsa prefers Tequila Don Julio 70's extraordinary taste served neat or over ice.
Tequila Don Julio 70 will be available in participating stores nationwide, in Mexico and at Duty Free stores beginning in fall 2011. The suggested retail price on this 750-ml bottle is $70.00.