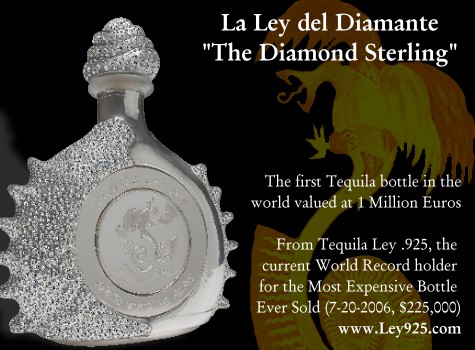 Tequila La Ley del Diamante, "The Diamond Sterling" !
The first Tequila Bottle in the World valued at 1 Million Euros

Tequila Ley .925 on the 20th of July 2006, proposed to launch in the following year, a bottle not only dipped in platinum, but also encrusted with diamonds. Now, one year later, after arduous work on the design, we have fulfilled our pledge and have the honor of presenting you with "The Diamond Sterling". The very first and unique bottle world-wide with an estimated value of 1 Million Euros.

With the sale of this bottle, we hope to break our own Guinness World Record for creating the Most Expensive Bottle in the World ever.


On July 20, 2006, Tequila Ley .925 S.A de C.V. launched into the world market the first collection of Pasión Azteca Tequila bottles, all of which are dipped in precious metals such as platinum, gold and silver.

The Pasión Azteca, white-gold & platinum bottle, established and broke a world record as being the most expensive liquor bottle in the World, when sold to a collector for $225,000 USD.

This sale credited Tequila Ley .925 with world class recognition in the Guinness Book of Records in October 2006, for selling the Most Expensive Bottle in the World.

Through a Cultural and Commercial Publication Foundation we also hope to publish a book narrating the "success story" of how the original idea was conceived and developed in Mexico, thus promoting the National Drink of Tequila presented in the most expensive bottle in the world.

Terms of Sale:

The purchaser of this bottle will be obliged to respect the legal terms required for sale, which will be: "The name of the buyer will appear publicly, whether it be a company or private, or the legal representative of such person". This is in order to establish the source of the purchase so that we can request the authorities of the Guinness Book of Records to certify and validate this NEW WORLD RECORD "In Situ".

When the actual World Record has been certified by the panel of judges of the Guinness World Record, the original certificate will become the property of the purchaser of the bottle of Diamond Sterling, and a copy will be given to Tequila Ley .925 including the legal rights to promote the sale of such item.

The sale of this bottle will be open to the public and can be seen on our website www.ley925.com from July 20, 2007.

On July 23, 2007, the CEO of Tequila Ley .925 Fernando Altamirano, will be presenting this item in all the major casinos and to possible purchasers in Las Vegas, Nevada, USA.

Also, in August, and based on the same legal terms, it will be promoted in London, Great Britain, Paris & Monaco, France, as well as in Dubai, Arab Emirates.

The price of this unique item will be: 1 million Euros







Proceeds:

From this sale, 15% will be donated to a worthy international or Mexican Benevolent Institution which will be obliged to contribute a similar amount of money donated by Tequila Ley .925. The final destination of such funds will be released on our web site www.ley925.com once the sale has been declared.

5% of the proceeds will be destined to programs and Associations dedicated to Global Warming and Ecological awareness.

We will be the first company world-wide to make publicity campaigns conscientiously focused on the consequences of global climate changes.

Reception for conveyance:

The CEO Fernando Altamirano will personally convey the bottle in a private reception in Mexico City to which the principal communication media will be invited. The buyer and his accompanying party will be flown to and from Mexico City by Private Jet, or with a round trip first class ticket in a commercial airline of their choosing. Once in Mexico City, he may choose to visit Chichen Itza (named as one of the New 7 Wonders of the World), or the Tequila Town in Jalisco, or a trip to the Sacred city of Teotihuacán.

Specifications:

Founding Company: Tequila Ley .925 S.A. de C.V., holder of the Guinness World Record for having sold the most expensive bottle in the world.

Company that Developed the Platinum & Diamond Bottle: Industrias JD, S.A de C.V.

Bottle Design: Fernando Altamirano, CEO Tequila Ley .925

Assembly of the Platinum & Diamond Bottle: Jose Dávalos, CEO Industrias JD

Central blazon design "Pasión Azteca": Alejandro Gómez Oropeza

Bottle:

Hand-blown glass created by 32 Mexican craftsmen

Bottle capacity: 1.2 litres (1,200 millilitres)

Covered with 18 microns of pure Sterling silver .925 and an anticorrosive varnish.

4 Kilogrammes of pure Platinum - Sterling .925

4,000 brilliant-cut diamonds 3 to 15 points "D" quality, purity FL/VVS

Tequila Quality: Extra Aged, 3, 6 & 9 years blended in cured barrels personally supervised by Fernando Altamirano, Tequila Ley .925 CEO

Alcohol: 42% / 84 proof

Black leather and jute case with white stitching, black chamois leather inside with the Tequila Ley .925's logo in the centre of a white gold blazon.

Approximate weight of bottle with Tequila content is 8 Kilogrammes

Photographs:

Requests for high resolution photographs are available in This email address is being protected from spambots. You need JavaScript enabled to view it.

Fernando Altamirano
CEO / Presidente
Tequila Ley .925 S.A. de C.V.