Review Detail
94
3
100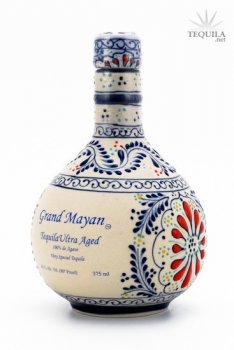 Extra Anejos
T
Tequila.net
September 05, 2011
120384
Grand Mayan is one of the most intricate and beautifully crafted bottles out there on the market. With that comes a few flaws: A fragle cork, ceramic tainting the tequila if stored long term and often a poor cork seal. After a few tries, I managed to find a bottle without any tainted qualities to try this 5 year juice.

Aroma: Right from the start you can tell this is an oak BOMB. Lots of woody notes, dark chocolate and a hint of agave.
Initial Taste: A nice sweetness up front with caramel and chocolate. Even just on the tip of the tongue, you can't escape the woodiness.
Body: The foremost flavor is wood. There's pepper, caramel and a hint of spice that goes along with it as well.
Finish: A long, lingering finish of wood, chocolate and pepper. There's absolutely ZERO burn on this juice and the flavor just hangs around nicely.

This might not be for everyone, but if you are looking for something that is woody, chocolatey and really easy going down...this is the tequila for you. The bottle is awesome, the smoothness is wonderful...but I would just prefer a little more agave in the palate than this one gives. But that is to be expected a bit in an ultra aged 5 year tequila.
Comments