El Amo Tequila Reposado
Hot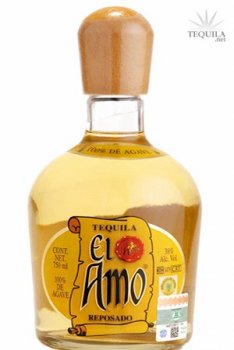 Tequila El Amo Reposado
El Amo Reposado Tequila is 100% Agave, and produced at Hacienda La Capilla distillery in Jalisco, Mexico.
User reviews
Aroma: Light Agave, wood and ripe fruit.
Initial Taste: A nice pleasant and light flavors mix of fruit, agave and light vanilla.
Body: Thin and a bit oily. It coats nicely and spreads the flavors of agave, wood and spice around nicely.
Finish: A medium length spicy & woody finish. A nice ending to a very well made reposado.

It keeps the agave integrity and adopt enough of the wood to be a smooth and well aged repo. For $20-25 a bottle, this is a good buy and I can see it mixing really well.
Tasted on 11/29/08 out of a snifter at home. Purchased bottle for $19.99 at Ramirez Liquor. For the price I paid, this was a very 'repo' reposado. It's spiciness was soothed somewhat by the 6 months aging. Not a a bad tequila at all. I recommend not mixing this one. A solid 'B' reposado.

Aroma: A spicy (clove?) aroma with hints of caramel.
Initial Taste: A semi oily mouth feel, upon entry it's ever so slightly bitter. Initial Taste is cinnamon.
Body: A robust agave body with very present hints of wood, spices, and fruit.
FInish: A heated finish of short duration with a spicy (clove like) aftertaste.