Mesteno Sotol Reposado
T
Tequila.net
May 06, 2007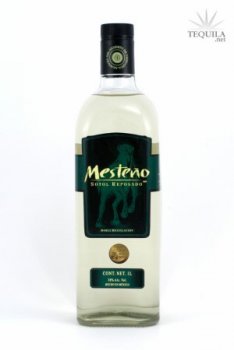 Mesteno Sotol Reposado
Mesteno Reposado Sotol is 51% agave and 49% cane spirits. A less expensive alternative from Chihuahua, Mexico.
User reviews
I'm a sotol newbie, so my comments should be taken in that context. This was the first sotol I've ever had, so I didn't know what to expect.

I thought the drink was not as sugar-cane sweet as I had feared, though it is a tad on the sweet side, indeed.

Nose-to-finish, the Mesteno Reposado held up pretty well in terms of consistency.

I didn't hate it, as a long-time tequila drinker, it seemed more like a "light," inexpensive tequila more than a $30's-plus one...the alcohol content says, "38%" on the bottle.

Would I go back to this one for another purchase. No, I would not. I hope to give HCD a try next.
Very low price. Unfortunately, this is not one hundred percent pure sotol. I was lucky enough to buy this at a fair in Mexico. Initial smell is very light. The taste is average at best. I was stunned by the bad aftertaste. I soon learned that it is because this product is sotol mixed with sugars. I also tried Fiesta which is also produced by Hacienda. Very low quality and also not pure sotol. I was surprised that Hacienda, which makes a very very good sotol, was behind these products. It was a representative a Hacienda that told me that these products contained other additives. Truly disappointed. Mesteno is good for a young drinker or someone on a tight budget.
Mesteno Sotol Reposado. I purchased this sotol mixto @ Licores de Chihuahua on a recent trip to Juarez & on the recommendation of the proprietor. I should have invested in HDC instead. The color is light amber with slight green tones. With the exception of the smell of alcohol, the nose was almost nonexistent. The first taste was reminiscent of agavecea with a sweetness due to the cane spirits & alcohol burn. The experience does get a little better with more of the agavecea taste opening up through the somewhat rapid finish. It all ends up being smoother than I initially thought which was probably due to the fact that me estomago was becoming numbed over the tasting period. Do not confuse this product with the fine spirits of HDC or the Bronze Medal on the label. Inexpensive @ best. Bottom shelf. D-/D